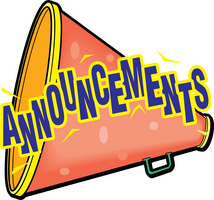 Daily Announcements
ALLPS
Monday, March 11, 2019
Parents: If you want to report an absence or check your student out to please call 479-445-1231 and follow the prompts. You may also email Heather Armstrong our Admin at Heather.armstrong@g.Fayar.net
If you have moved since the school year started, please update your address with us.
Fayetteville Public Schools would like to hear Parents feedback on how we are doing. Please take a few minutes to complete the Parent Survey. Thank you for your time. http://bit.ly/FPSparent
PARENTS, PLEASE MAKE SURE YOU ARE CHECKING OUR CALENDAR FOR IMPORTANT STUDENT ACTIVITIES FIELD TRIPS, AS WELL AS SENIOR INFORMATION. https://district.fayar.net/o/a...
Junior girls or boys interested in learning more about citizenship, leadership, government and community opportunity please consider applying for Girls or Boys State. This is a week long program held May 26-31 at Harding University. For more information please go to www.ArkansasGirls.State.com or see Mr. Chicas.
Upcoming Field Trips :
Devils Den- May 7th Devil's Den End Of The Year field trip - whole school
ALLPS is participating in the Jesse Lewis Choose Love Movement.COURAGE + GRATITUDE + FORGIVENESS + COMPASSION IN ACTION = CHOOSING LOVE = CHOOSING LOVE.
For this month the Choose Love Theme is FORGIVENESS. Forgiveness means choosing to let go of anger and resentment toward yourself or someone else, to surrender thoughts of revenge, and to move forward with your personal power intact. When you practice forgiveness you work through and let go of powerful feelings like anger and hurt in a healthy, positive way.
Choose Love Challenge for today, May 15th is: Think of someone you've hurt. Reach out to tell them you're sorry.
Our annual career fair April 26, you will get breakfast, interviews, and tips for successful job seeking. Dress for success. See Mr. Medlock for more information

SUMMER SCHOOL- SUMMER SESSION 2019 is for students who need to recover credit from previously failed courses and get back on track to graduate.June 3rd- July 25th With a break from July 1st-5th- Here is the link: https://docs.google.com/forms/...
Senior Parent Information-
Senior brochures are available, students get a copy from your advisor.
Seniors who want to try out to be a speaker at graduation are welcomed to do so. Deadline to submit speech is listed on the senior brochure
Senior Scholarship Program May 14, 2019 6:30 pm
Cap and Gowns are here for pickup.

Seniors: If you haven't ordered your Cap & Gown yet, you can contact Balfour 479-306-4486 to order over the phone or you can order online. http://orders.balfour.com/smi2….
Events, Dates & Times To Remember Note this information is specific to ALLPS School of Innovation only; the events listed pert to FHS involves events that are in collaboration with FHS campus.
Graduation announcements and cap & gowns to be pickup on 4/12- present. ALLPS- Graduation supplies pickup 9AM-4PM
First day to buy Senior Breakfast tickets 4/23
All library materials for seniors due 4/24
Last day to turn in Graduation Speeches (Room 3107) 4/26
Prom (Town Center, 9 pm-12:00 am) 4/27
Project Graduation ticket purchase ($20) 4/22 – 5/3
Yearbook distribution MAY 1
Last day of class for seniors 5/3
Tryouts for graduation speakers (4:30-5:30 pm, Lecture Hall) 5/3
ALLPS Senior Celebration (10:30 a.m. - 12:00 p.m @ ALLPS) 5/3
Moving Up Ceremony/Parade of Champions (3:00 pm) May 5/3
*CTE Career Scholar Ceremony (5:45-7:45 pm, PAC) 5/8
Last day to buy Senior Breakfast tickets 5/9
* Senior Scholarship Program (6:30 pm, PAC) 5/14
Senior Breakfast (10:30 am, Mermaids) 5/15
Textbooks Due (unless special arrangements have been made) 5/10
Graduation Rehearsal (10:45- 12ish am Bud Walton) 5/16
*Graduation - Seniors arrive 6:00 PM; (7:00 pm Bud Walton) 5/16
Project Graduation (10:00 pm-4:00 pm) Boys & Girls Club 5/16
Diplomas and Transcripts and CUM folder pickup at ALLPS 5/28
Students must have ID to pick up their Diploma and Cumulative folders 05/28
Seniors your Gmail account will be deactivated in July. Make sure all personal information that you may have saved is moved to your own personal account.