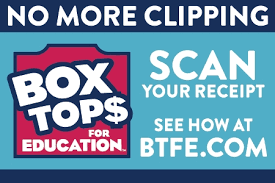 BOX TOPS FOR EDUCATION IS CHANGING. You can enter these during the summer!
DJ Rush
Friday, January 10, 2020
BOX TOPS FOR EDUCATION is changing. Box Tops is changing to fit today's families. The new and improved Box Tops mobile app uses state-of-the-art technology to scan your store receipt, find participating products and instantly add Box Tops to your school's earnings online. Eventually the Box Tops program will become digital-only. Participating brands are starting to change their packaging from a traditional Box Tops clip to the new Box Top label.
If you see this label, use the new Box Tops app to scan your receipt. During the app install process it will ask you what school you want the box tops to be credited to. We need your help to continue using this source of income. Box Tops are still worth 10¢ each for your school. The app will find participating products purchased at any store and instantly add cash to your school's earnings online.